Web hosting

See our Web hosting page.

Web design

We create modern, clean websites with a focus on maximizing the visitor experience. Information is presented in a simple, concise way to help your customers find what they need to know.

Web programming

Web programming can make or break a site -- interactivity promotes stickiness and increases customer's return visits. Personalizing the visitor experience is an excellent way to further brand your site and grow another business channel. We do solid work and we work quickly to get your site up and running. Whether adding new programming to a site or modifying/maintaining existing code, we can handle anything running on any popular platform.

Linux/Windows system administration

System administration is critical to keep daily office operations running. Whether you are too small for a full-time IT support specialist and need occasional emergency help or ongoing maintenance, or are looking for a resource your IT staff can turn to when they are stuck, we can handle it. We have over 10 years of experience working with both Linux and Windows systems on an intimate level. Give us a call if you get in a jam, have an irritating issue you just can't fix or want someone to watch over your systems periodically.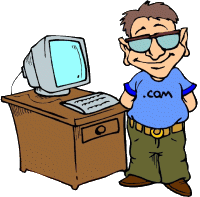 Office process automation

Every office has a process or two that boggles the mind -- print this report from this system, enter the data into this system, export into this format and import back into the first system... are you spending too much time on a process for which you believe in your heart "there must be a better way?" We greatly enjoy automating business processes to ease employee workload and increase productivity. With over 10 years of experience with system integration, we have lots of tricks up our sleeves for interconnecting seemingly incompatible systems. Give us a call today for an evaluation and a quote.

Web-enable existing applications

Want your customers to see your current inventory? Their account balance? Have other data in an office-bound program that you want to make available on the internet? It's often surprisingly easy to get data from the office to the web. We will work with you to design a system for one- or two-way data transfer to/from the web. The sky's the limit!
E-Commerce

Enabling sales on the internet is an easy way to remove overhead and dramatically increase your customer base. We can build custom solutions scaled from a few transactions a month to hundreds a day. We have more than 5 years of experience in this arena and have worked with several payment processors and shopping cart systems, in addition to creating custom payment processing solutions. Call us and let us know your requirements and we'll suggest an appropriate solution.

Printer repair

Got a nice printer that just quit? Don't want to replace it and all the desktop drivers? Call us first! We'll tackle any printer for a $50 flat fee, plus the cost of parts. If we can't fix it, there's no charge!

Desktop support

Many small businesses can't afford a full-time IT staff to handle things like network problems, email issues and general application questions. We can provide "hotline" service for pressing questions or on-site PC repair/maintenance services for your business. Call for more details.

SOHO networking setup and support

Have a network? Need a network? We can design and implement an appropriate system for your business, as well as reconfigure and maintain existing networks. Have a broadband connection? We can provide firewall and VPN solutions to secure your network and allow secure remote connections.

General technical consulting

With over 15 years of computer experience, we have seen it all. If you're stumped by a problem that just doesn't add up, or need help with an obscure application, give us a call -- we may very well have run into it before.